Cherish PR
"The first lockdown was difficult for so many people for lots of reasons, so we are hugely proud to have worked on a campaign which showed how a simple daily routine could benefit mental health. 
"It's also incredibly rewarding to have our hard work recognised after it generated such clear and meaningful results for Jeyes.  We quickly organised the campaign in less than a month with a modest budget but our multi-channel approach still gave us significant cut-through against the changing and fast-paced media backdrop."
Rebecca Oatley, Wilful Co-Founder and Founder of Cherish PR
Think Tank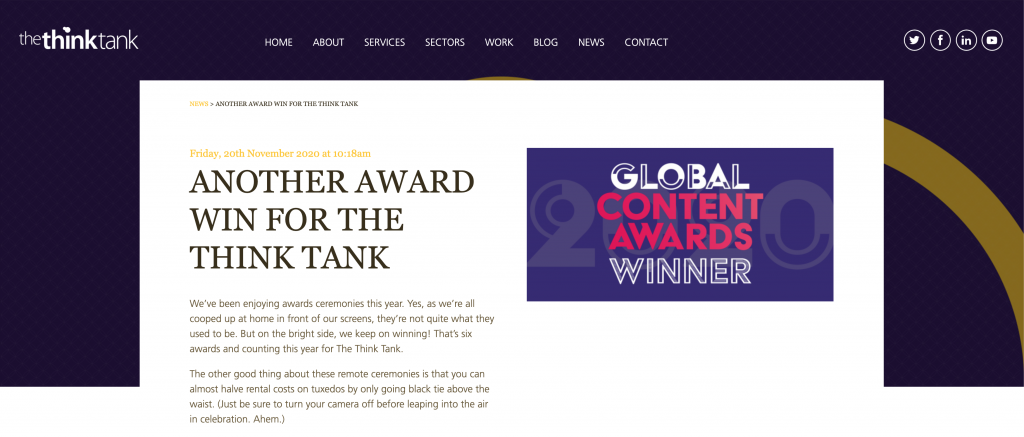 ---
Peak Ace AG
"Rounding out a really wonderful year of awards recognition (truly, the main thing any of us will remember about 2020), it was a delight to see our teams' hard work rewarded by industry experts. This time around, the spotlight was on our multi-award-winning campaign, Yours Clothing, which beat out the other entrants – including other Peak Ace campaigns! – to be named Global B2C Content Campaign of the Year and Global Fashion Content Campaign of the Year.
Plus, after having taken home reams of titles for the agency as a whole this year, we were delighted to pick up the Silver Award for the particularly prestigious title of Global Large Content Marketing Agency of the Year. It's a joy to have shared in so many successes with the whole of the company and to see that our agency is clearly doing excellent work on a global scale!
Reacting to the wins, CEO Bastian Grimm says:
After a whole year of awards successes, it is no less wonderful to receive these honours from the Global Content Awards. We are so grateful to our clients for all their collaboration and proud of our spectacular teams, without whom none of this would have been possible."
---
ICS Digital
"Becoming award winners in content for the first time 
ICS-translate wasn't alone in terms of reasons to be cheerful in 2020. Amid all the chaos of the year, it was a pretty incredible feeling to win our first major industry award within a content category. The ICS-digital team's incredible work with our client IG was rewarded with the Global Finance Content Campaign of the Year award at the Global Content Awards. 
We fought off some stiff competition in the process, and it was the perfect way to recognise the commitment of the team across the board here, and also the expertise of the in-house team at IG. 
Traditionally, we haven't been ones to shout about ourselves (although we've done much better on that front since our Marketing Director, Martin, joined us last year), and although it still doesn't always sit comfortably shouting our achievements from the virtual rooftops, it's a fair point that the hard work of our exceptional team and the trust our clients place in us deserves public recognition. Here's to more of that in 2021!"
---
Sweet Tweets