A sense of accomplishment and excitement swept through the marketing team when Rachel Heseltine, Vice President of Consumer Growth at Trader Interactive, announced that the Summer Destinations campaign was shortlisted at the Global Content Awards for the Global Travel/Leisure Content Campaign of the Year.
"It's always special when the work that your team has labored over, nurturing from concept to execution, is recognized by a panel of industry experts as being among the best of the best," says Heseltine. "It's a very proud achievement for our team."
The Summer Destinations campaign was launched on two of Trader Interactive's core brands, Boatline and RV Trader. The goal of the campaign was to provide destinations to boat and RV owners, respectively, inspiring wanderlust and encouraging them to use their recreational vessels and vehicles during the summer season, while simultaneously driving brand awareness.
Trader Interactive's broad portfolio of online marketplaces connect buyers and sellers in several industries, including marine, recreational vehicle, powersports, commercial vehicle, and equipment markets. The goal of these brands is to be a complete resource for consumers in each industry, from buying and selling to providing informative articles on maintenance and lifestyle on each marketplace's blog site.
But, why summer? The summer season offers warm weather, perfect for almost any activity without weather disruptions. Children are also out of school for longer, allowing for more opportunities for family travel compared to spring and winter breaks.
"It was the right content at the right time," Heseltine explains. "As people were thinking about and planning their summer vacations, our lists of the best summer destinations captured their imaginations, giving them new options to think about visiting."
While Trader Interactive's other well-established brands have found success in executing consumer campaigns of this magnitude, this was the first for the newest addition to Trader's robust portfolio, Boatline. Boatline is an online marketplace for on-the-water enthusiasts to buy and sell a variety of boats and personal watercrafts. Developing summer destination-themed content for the Boatline blog offered an opportunity to support brand awareness goals and establish credibility in the marine space.
With a team of two full-time staff writers and one freelance writer, the Boatline Summer Destinations campaign, consisting of 13 articles and a landing page, surpassed the initial traffic goals set before the campaign's launch.
Boating enthusiasts could imagine themselves setting sail to some of the best lake towns in the country or cruising into a charming coastal town, with articles broken down by region. Boatline's destination articles also covered the best locales for fishing, water sports, and events to which you can boat. The articles featured in Boatline's Summer Destinations campaign even garnered national attention from popular media outlets, such as Timeout, MSN News, and Forbes, through collaboration with Trader Interactive's PR agency.
Simultaneously, the content team was also creating RV getaway articles for one of the company's other brands, RV Trader. RV Trader is a leader in the recreational vehicle industry for buying and selling RVs, motorhomes, travel trailers, and more. RV Trader's Summer Destinations campaign featured five articles that covered the best family campgrounds for summer camping, glamping campsites, honeymoon road trip destinations, mountain towns for summer camping, and national parks with the best hiking trails.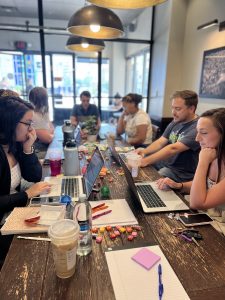 In total, these five articles, along with visits to the RV Trader Summer Destinations landing page, outperformed the team's initial page visit goal. This was once again in part due to the impressive PR efforts, which generated media pick ups in Apartment Therapy and Travel + Leisure.
Trader Interactive's small yet mighty content team was able to plan and execute 18 total articles that motivated their consumer audience to get out there and explore the country, by land or by sea. In collaboration with several members of the company's larger marketing team, the Summer Destinations campaign initiatives generated traffic far greater than the initial goals set, with the help of campaign-specific email and social media marketing.
While the goal is always to create content that's interesting to readers, the content team also had a lot of fun writing the articles. Detailing picturesque destinations with awe-inspiring vistas served as their own mental escape from the four walls of an office. Knowing that readers could do the same, and possibly even plan their own adventures after reading these articles, made the work even more rewarding.
For more information on Trader Interactive and the company's brands, visit TraderInteractive.com.