As a startup founder, I learned that the best promotion needs emotion.
Our business spins around tech. 3D printing is as techie as tech can get. We are geeks developing and promoting products to other geeks. If you google 3d printing, most of the videos and articles you'll find are how-to-use guides comparing technical specifications. These videos are fantastic for learning something new. But do they build a human connection to a brand?
Our job as company founders and advertisers is to sell content. With terabytes of video content and millions of words flooding social media every day, it's a damn hard job to make your video attract any attention.
So we thought: why don't we produce a promotional video that would galvanize our customers without mentioning a single technical term? Can we inject some life into an otherwise nuts & bolts 3d printing advertisement?
Our first challenge was a limited marketing budget as a boutique tech company.
Large companies give millions to renowned branding agencies from London to San Francisco to produce unique spots – that will not only show the product features but ignite something inside customers' hearts.
But the grueling part for a tech geek is to come up with an emotional story.
When you spend hours working in front of a CAD workstation or soldering yet another prototype in a workshop, emotion is the last thing you care for. Drama is a distraction for a focused stoic engineer.
So how did we do it?
We came up with a topic our team was passionate about: the verge between the 1980s and 1990s. We felt confident our customers would love that theme too.
By the end of the 80s, 3d printing knocked on the doors of hardware companies. Back then, 3d printing was magic: creating real things out of thin air. That magic enabled product designers and engineers to bring their products to customers faster. It was long before iPhone or iPad came out, but it was still very significant for anyone working with product design.
After a week of heated discussions, we had a story.
Our protagonist is a fictional inventor of the first wireless PC mouse. She embodied everything we imagined a product designer to be: curious, focused, and ambitious. Her fearless character helped her leap through a time-warp into 2022 where she could use our product. It was a back-to-the-future story about 3d printing.
Ok, this is all great, but you'll ask: what products do we sell?
Since 2019, we have developed and manufactured specialized products for the 3d printing industry. They are called support materials and support removal stations. It's a niche in a niche. Our products aren't the 3d printers you see in movies and trade shows, but they are just as important. If 3d printers were cars, then we would be the manufacturers of machine oil and oil pumps. Our products help things run smoothly in 3d printing. If this makes you curious, check out www.xioneer.com.
In 2022, we also opened our online store https://www.xioneer.com/shop/. We are happy to announce that Xioneer became the first European 3d printing material online shop offering worldwide shipping. The community of 3d printing users spans all continents, so why limit to only one region? So we hope other companies in Europe will follow.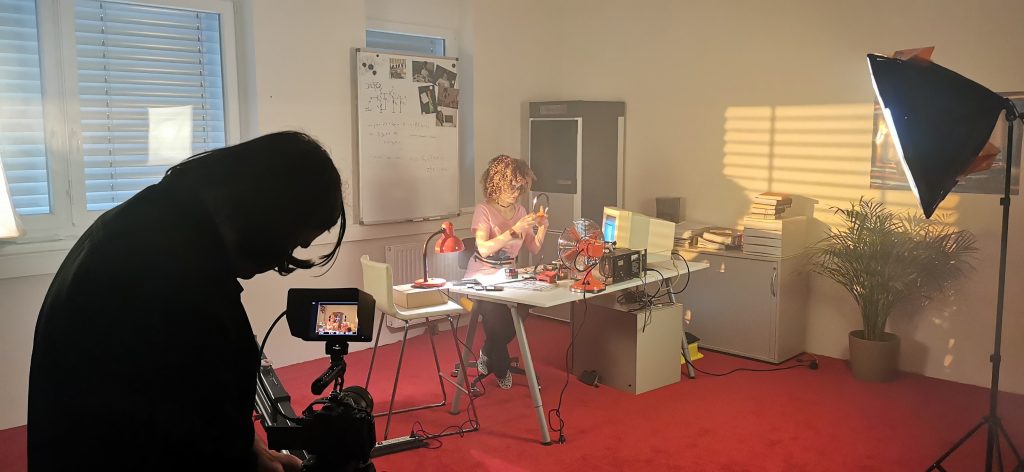 We are honoured and excited about being nominated for the Global Content Award. It has been a rewarding experience to produce our video. But these few weeks were filled with valuable lessons.
First, a tight budget does not necessarily mean low quality if you focus on the right things.
We learned that producing a thrifty video needed three conditions: good preparation, a highly cooperative team, and lots of improvisation.
Luckily, we already own solid filmmaking equipment: a Sony A7 camera with a sturdy tripod, a few mid-range studio lights, and a powerful mac for post-processing. So we spent most of our budget renting specialized lights, jigs, and a fog machine to create a nostalgic 80s flair. But a few things were missing: the props to make our scenes look real.
With hardly any budget left to spend, we did what a startup does: improvise.
We bought an era-appropriate PC on a flea market from a grey-haired man who used to be an engineer. One of our designers dug out an old mouse and a WalkMan from his attic. The model of the first 3d printer was built from an old fridge and a few stickers. We drove a hundred miles to get the TI personal organizer from 1991 shown in the first scene of our video – we couldn't resist having it because it perfectly fit the year of our video.
In the end, we spent only a fraction of our budget on props while having excellent equipment for filming.
We thought working on a promotional video with a low budget, but high expectations would be frustrating. Instead, it proved to be rewarding a fun.
Thanks for having us on the list of finalists.
Watch our award video: https://youtu.be/PXaFetaiAic
Follow us on Social Media: Facebook | Instagram | LinkedIn