It's estimated there are 11 million unpaid carers in the UK – people who care for a partner, parent, family member, child or friend. Anyone could be an unpaid carer, in fact many are but don't identify with the term 'carer' and three in five of us will be an unpaid carer at some point in our lives. Unpaid care is an integral part of our social fabric, yet it rarely gets the recognition it deserves. That's why the announcement that Mobilise has been made a finalist in the Global Content Awards is so important – it gives visibility to those 11 million unpaid carers and says they are receiving and deserve "best in class" content.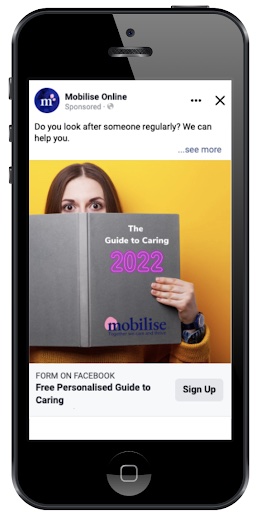 Delivering content that carers deserve
Mobilise is on a mission to make sure nobody has to figure out a caring role on their own. By using tech and content, Mobilise reaches those who care for others, creates a community for peer-to-peer support, offers a listening ear and genuinely useful tools and advice, while also connecting carers to the support they need – which can feel cumbersome when navigated alone and via traditional routes.
"Whatever support is given to carers, whether that's through Mobilise or not, it needs to be the very best it can be – it's what carers deserve, their time is precious and needs to be valued. That's why so much work goes into the content we produce; it has to be accessible, easy to digest, look nice and must be understanding of the fact carers are often in an emotionally stretched frame of mind.
"We're there to ease those stresses with the content we're creating. Being shortlisted by the Global Content Awards validates what we're doing is of the very best standard for carers," explained James Townsend, CEO and Co-Founder of Mobilise.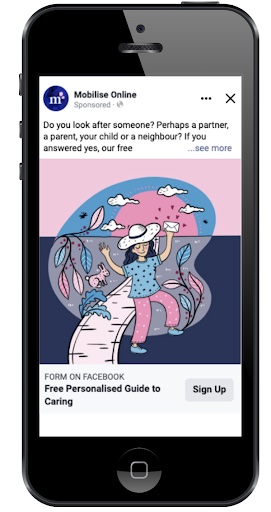 Making an impact with the Personalised Guide to Caring
Selected as finalists in the CRM/Email Content Campaign of the Year category for its Personalised Guide to Caring, Mobilise launched the campaign to build upon its existing Email Course for Carers. The goal was focussed: reach more unpaid carers and improve the impact made on carers lives – and with a 7.9% growth in engagement, the campaign certainly achieved what it set out to do.
Drawing on their experience with their growing community and over 25,000 social interactions with unpaid carers, Mobilise developed 14 carer personas. Each person signing up to receive the Guide would be matched with a persona, and delivered a selection of content personalised to their caring situation – thanks to 47 pieces of content aligned with the personas, and email sequences powered by HubSpot.
Pieces like How to care for yourself when there is no time to care for yourself, and Warning signs of carer burnout proved particularly popular. The emails delivering the content were deliberately un-designed, to ensure a high level of compatibility. With welcome videos from Mobilise team members, who are carers themselves, the emails gave a feeling of warmth and friendliness.
The result was a huge social impact opportunity presented by the Personalised Guide to Caring. With so many of us caring for our loved ones, targeted and streamlined social media advertising ensured the guide reached unpaid carers, including those yet to identify, and offered extensive opportunities to provide valuable support as an early intervention. We're really proud that many carers are taking their first steps to support with us: 70% of carers we've reached have never been in touch with traditional carer support services.
To put it all in to context, here's what one carer had to say about their experience with Mobilise:
"When I received your first email recently I was SO grateful for the information provided. I will certainly refer back to it if I need to reread the information. I now feel I am not totally alone and isolated and that I can reach out for help when I feel I need it."
To find out more about Mobilise, whether you care for someone or to learn more about how we work with Councils to identify and support unpaid carers, visit www.mobiliseonline.co.uk